The #Vanlife business is booming. While the pandemic has definitely gotten more and more people across generations dreaming of hitting the road with an RV or conversion van, even before Covid-19, consumers across North America were increasingly renting or purchasing these types of vehicles, which offer a lot of freedom to travel.
Why should you reupholster an RV or conversion van?
An entire community can be found online and on social media offering ingenious advice and inspiration to pimp up the interior of RVs and conversion vans, whether for a more modern design, additional features, or optimized space.
One way to effectively make an RV or conversion van feel more like home is by reupholstering its dinette cushions, seating and even headboards. This is especially the case if you buy a previously owned vehicle, which may have old, lackluster or frayed fabric that needs some TLC. It is definitely time for camper makeover!
Some people retrofit their RVs and conversion vans with very inexpensive, low-quality fabrics in order to seemingly save a buck or time. However, this is far from the case. Investing in the right upholstery can actually prolong its useful life as well as contribute to adding value when you sell it.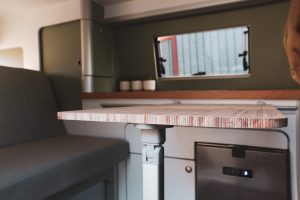 Here are our top recommendations of what to look for in a fabric to upholster your RV or conversion van.
The perfect fabrics for upholstering an RV or conversion van
Easy to clean: When on the road, the last thing you want to do is lug a bunch of specialized cleaning products and equipment to clean your upholstery. Carefully read the manufacturer's instructions to determine how easy—or complex—it may be to clean the fabric.
Simple to install: Retrofitting a van or RV can be fun. However, you may not be a sewing or upholstery expert, or have the right tools for the job.
Durable: #Vanlife means somewhat "roughing it," especially if you are with young children. Polyester has one of the highest tensile strengths, which means it can resist constant abrasion.
Mold- and mildew-resistance: Along the same lines as durability, the fabric you choose should be able to stave off any damp conditions that are conducive for mold or mildew to grow. If you plan to do a lot of water sports or your vehicle doesn't have an optimal level of aeration, for example, this is something to consider.
Comfortable: Nobody likes to sit on hot leather seats in summer—or cold leather seats in the fall and winter. Breathable, four-season fabrics go a long way to ensuring comfort for prolonged seating (like during game night when it rains!).
Offered in neutral colors: Select upholstery fabrics in neutral colors, such as dark blue, grey, black or beige. Darker colors tend to not highlight any unseemly stains, whereas lighter colors make interiors look better. The benefit of neutral colors comes down to taste (you can always add a shot of color with your accessories) as well as resale potential. Not everyone will be interested in hot pink dinette cushions.
Guilford of Maine's fabrics for reupholstering RVs and conversion vans
Guildford of Maine, which has a long-standing expertise in commercial textiles, has launched a collection that are perfect for reupholstering RVs and conversion vans. In fact, they can be used for any camper class and suit all tastes, from timeless classic to sleek modern.
Planning a reupholstering project for your conversion van or RV? Start shopping for Guildford of Maine fabrics today!